Released April 12, 1998 at Mekka + Symposium '98
ranked #2 in the Game-Competition

32 kb


Rise of the Rabbits 2 was released at Mekka&Symposium 98 in Fallingbostel, Germany. It ranked #2 at the 32k-game-compo.


| | |
| --- | --- |
| Code, Music, Graphics | Pink |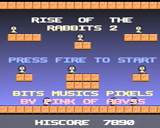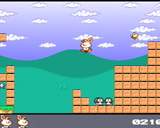 [1] - Title screen
[2] - In-game


This one is a really cute jump'n'run game. You control a rabbit (hence the title) and jump through a huge level with butterflies and some other enemies on which you can jump and they will die... The game features nearly 300 colors on screen, 9 levels of parallax scrolling and superb AHX music... It probably features much more, but i can't remember any more... JUST GET IT! It's only 32kb!


| | | |
| --- | --- | --- |
| | Required | Recommended |
| CPU | 68020/14MHz | -- |
| Memory | 2MB Chip, ?? | -- |
| Chipset | AGA | -- |
| HD | -- | 32kB |


1 entry
"Wow! Very great game! Nice Paralaxscrolling... Giana32k on PC was not so great! I am wondering, how is it possible to code paralaxscrolling in bb2? I play it very often... keep on ya work!", Mr.Vain of Secretly!, mr.vain@secretly.de, 2001-02-15 11:01:38