Released August 08, 1995 at Assembly '95

712 kb


Pixel Storm is a high quality AGA slideshow and was released at Assembly '95 held in Helsinki, Finland.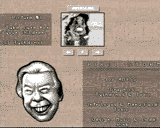 [1] - Main menu


Browse the gallery for Pixel Storm (11 images)


The slideshow features 10 pictures of Toxic and Tyshdomos, such as the famous 'Al Bundy' or 'Michael Jackson' portraits. Toxic decided to include several 'AGA boosted' versions of earlier pictures such as 'James Dean' portrait or the 'Pighead', most of the pictures were also featured on some graphics competitions. Pink did the coding and the musics. Menu features thumbnails of the pictures.


| | | |
| --- | --- | --- |
| | Required | Recommended |
| CPU | 68020/14MHz | -- |
| Memory | 2MB Chip | -- |
| Chipset | AGA | -- |
| HD | -- | 1MB |


0 entries