Released
Diznee Land #1

66 kb
Diznee Land #2

131 kb
Diznee Land #3

93 kb
Diznee Land #4

120 kb
Diznee Land #5 Gold

132 kb
Diznee Land #6

148 kb
Diznee Land #7

105 kb
Diznee Land #8

110 kb


Diznee Land is a series of chip-music disks with chip tunes created by Mem'o'Ree (now: Luka) and Pink. Issues #1-#8 are available now.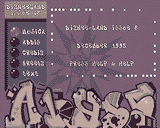 [1] - Diznee Land #8


Browse the gallery for Diznee Land (5 images)


The series features a grafiitti-styled design and cool title pictures drawn by Toxic. Although the main-menu graphics always stayed the same, each issue features a new palette and a new background effect done by Moon, that pushes a standard A500 to it's limits. Mem'o'Ree (now: Luka) started doing the musics and when Pink joined Abyss, they shared the space and each of them made 5 tunes for each issue. But as Luka got more and more busy with commercial musics, the balance moved and now it's 8 to 2 for Pink. In a recent issue several guest musicians starred. Some people even say it's the best chip musics around...


| | | |
| --- | --- | --- |
| | Required | Recommended |
| CPU | 68000/7MHz | -- |
| Memory | 1MB | -- |
| Chipset | OCS | -- |
| HD | -- | each 100kB |


2 entries

"Hi, Really nice chiptunes, i love them. Respect and nostalgia thoughts : Pink rulez ! Amiga rulez and .. happy birthday - a bit late lol", sylicon^intense, sylicon_its@yahoo.com, 2005-05-16 20:47:23

"Really nice tunes! Especially "hard 2 chooz" in the first issue. best regards", Olli, olli_99@gmx.net, 2004-01-02 19:31:30