Released December 27, 1995

872 kb


Think Pink is a high quality AGA music disk by Pink that features non-chip tunes and was released at The Party '95 held in Fredericia, Denmark.


| | |
| --- | --- |
| Code, Music | Pink |
| 'Think Pink'-Logo, Main menu design | Toxic |
| 'Abyss'-Logo rendering, Main font converting | Bartman |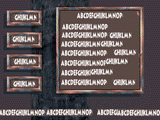 [1] - Main menu


Think Pink features previously unreleased modules by our favorite musician: Pink. Included are modules which styles range from pop to acid jazz. Really worth listening. Modules are standard Protracker-Format, so for all fans of Pink's modules, you may easily rip them with ExoticRipper or similar tools. This does not imply the permission to re-use them without prior written consent!


Required
Recommended
CPU
68020/14MHz
--
Memory
2MB Chip
--
Chipset
AGA
--
HD
--
1MB
Crashes
Blizzard 68030/50MHz: Turn off 'FastROM'/'MapROM' or reset VBR-register


0 entries