Released April 12, 1997 at Mekka + Symposium '97
ranked #1 in the 40k-Competition

40 kb


Diskobox was released at Symposium 1997 in Fallingbostel, Germany for the 40k Competition.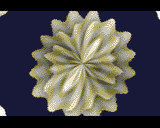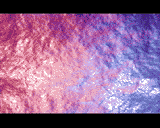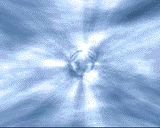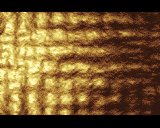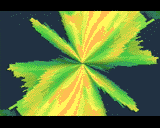 [1] - Bump-Twirl (?)
[2] - Double lightsourced bump-mapping
[3] - The Disco ball
[4] - Bump-Mapping
[5] - Bump-Twirl (?)


Again another release from our super-coder Spin. Always original, never mainstream style. This time he brings you some nice bump-mapping effects, never-seen before special routines that have nothing in common with Artwork's "Yeah we have the best 3d engine and our productions need more memory than your pentium"-things. All effects are of course 1x1 pixel resolution and run very smooth on a Blizzard 68030/50MHz. For optimum performance run this intro on an 68060...


| | | |
| --- | --- | --- |
| | Required | Recommended |
| CPU | 68020/14MHz | 68030/50MHz |
| Memory | 2MB Chip + 4MB Fast | -- |
| Chipset | AGA | -- |
| HD | -- | 40kB |


1 entry
"now that intro inspired me a lot back then! but please don\'t try to watch it on 4060 since the music will play way too fast. spin, please reassemble this one with a bug-fixed player.", noname, noname@haujobb.de, 2001-10-25 00:51:19